What is a gas hob ? How to choose a gas hob? What is the best hobs for your needs? Let us help you find the right hob.
1. Size
Choose the ideal size from 30cm to 90cm, depending on your kitchen countertop space. The bigger the hob size, the more space you will have to move your cookware around, or fit bigger cookware on different burners.
1.1 Flexible Cut-Out Size
For replacement units, measure your existing cut-out size to find a suitable replacement size. Consider EF gas hobs that feature flexible cut-out size for greater flexibility. This series of hobs come with larger top plate and smaller body, so that they can fit a range of cut-out sizes.
1.2 Domino Gas Hobs (30CM)
For greater flexibility, consider domino hobs that give you best of both worlds by offering you the total freedom to mix and match between gas hobs and electric hobs. They can be arranged entirely to suit your preferences and go together perfectly in terms of looks. You can enjoy faster cooking with precision when cooking on electric hob, as well as powerful wok hei flavours when cooking on gas hob.
2. No. of Burners
Choose from 1 burner to 4 burners depending on your cooking habits. If you have a larger household, cook bigger meals, and more dishes at the same time, choose gas hobs with more burners.
3. Novel Gas Hob Features
3.1 Dual Flame Control, up to 5kW
Choose EF dual flame control hobs that come with triple rings burners for precise, even heating. On low heat setting, a smaller ring of flame is used for simmering, slow boiling. When increased to high heat setting, bigger rings of flame come on to extend the flame size, this is deal for fast boiling and frying. This is unlike traditional gas hobs that typically adjust the intensity of the entire flame altogether.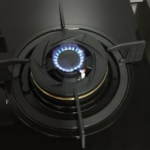 This series of EF gas hobs boasts exceptional flame power of up to 5kW; one of the highest in the market, delivering superb performance and stronger wok hei flavours. Also comes with flexible cut-out sizes.
3.2 Flush Design Gas Hobs
Our flush hob series is an addition to our comprehensive range in our built-in collection. Its' ergonomic design sits flushed with your kitchen bench
THICKNESS 1.8MM allows easily movement of cookware between burners, while beautifully blending into kitchen countertop seamlessly.
RECESSED BURNERS minimize heat loss and wind interruptions.
HIGH GRADE 304 STAINLESS STEEL are durable and made to last.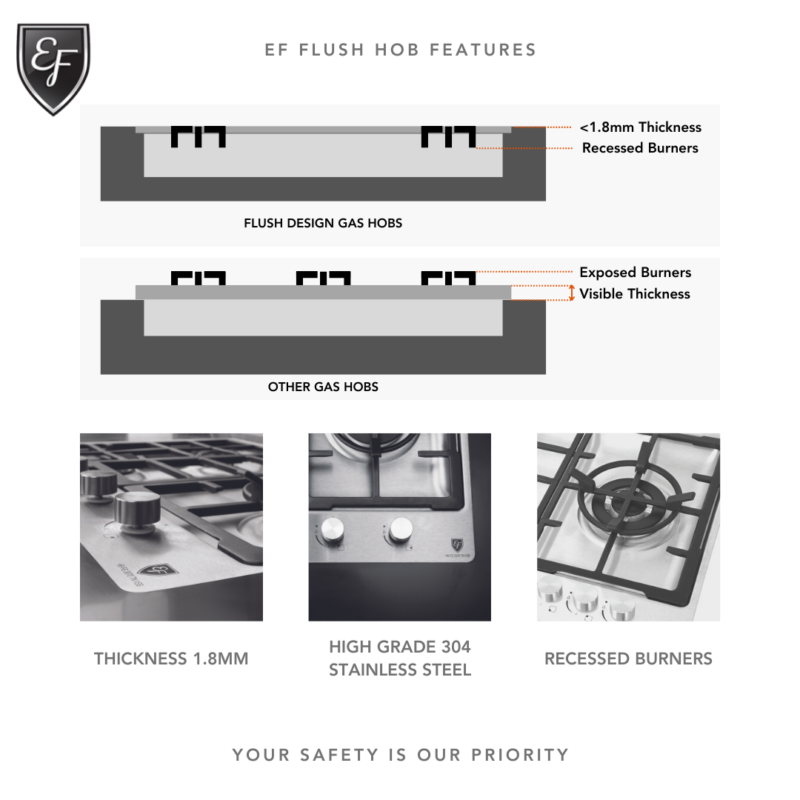 4. Easy to Clean, Safe and Convenient.
EF gas hobs come with fully sealed burner base to contain any spills when accidents happen and make cleaning a breeze. All hobs are also fitted with Flame Failure Safety Device that automatically cuts off gas supply to the burner when the flame goes out. For convenience, choose from gas hobs equipped with battery ignition or electric ignition to automatically ignite the flame without use of lighter.
Locate nearest retailers to browse EF gas hobs in person.