EF cooker hood, your kitchen partner to ease your chores so you may spend more time cooking to your hearts content instead of cleaning up. Cooker hood keeps your kitchen smelling fresh by effectively eliminating airborne grease, fumes, smoke, odours, heat, and steam. By eliminating fire-prone grease stains build up at home, the cooker hood also reduces the risk of a kitchen fire, so you may enjoy peace of mind and safety at home. Discover how to select the right cooker hood to complement your lifestyle.
1. Type of Circulation Modes
The first step is to identify the type of circulation to be operated at your home. The layout of your home will directly impact which type of venting option best suits your kitchen.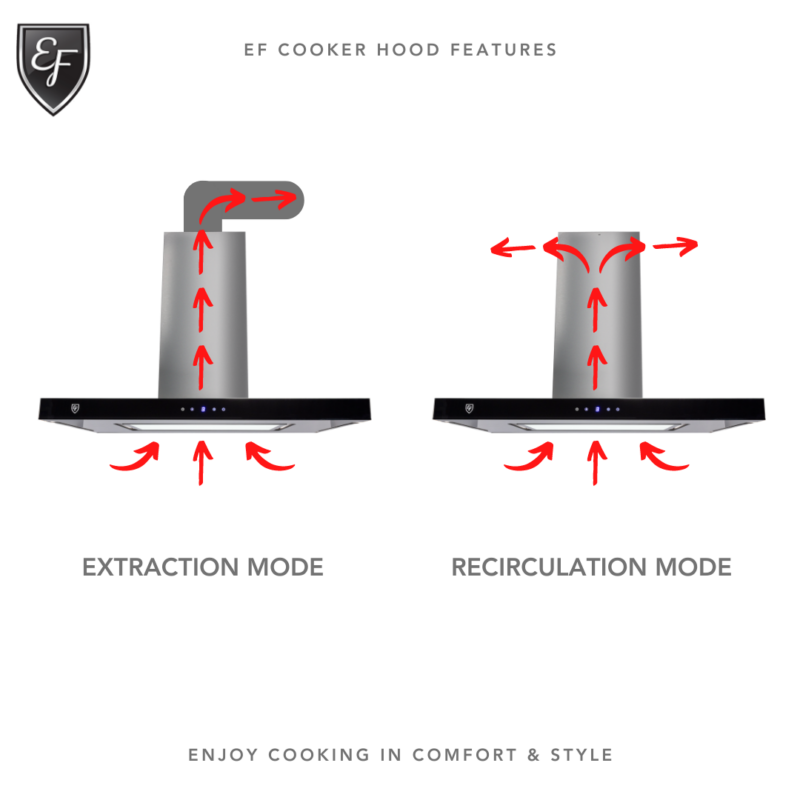 1.1 Extraction Mode
In extraction mode, cooker hoods operate by filtering air from your kitchen, and subsequently expelling it outside of your home. Although they operate in the most effective way to remove fumes and odours entirely from your kitchen, they require complicated installation of ducted piping in order to vent smoke and fumes to outdoor This option is ideal for bigger homes with ample space.
1.2 Recirculation Mode
On the other hand, in recirculation mode, cooker hoods are equipped with active carbon filters to effectively neutralise odours and smoke, before releasing the clean air back into your kitchen. As they do not require an exhaust pipe, they can be installed anywhere in your kitchen. EF cooker hoods also come equipped with metal grease filters (baffle filter, aluminum filters, or oil tray) that are easy to clean by hand or in the dishwasher.
2. Type of Hood
In addition to keeping your kitchen smelling fresh and grease free, cooker hoods can also be a stylish addition to the kitchen.
2.1 Island & Chimney Hoods
Statement Piece in the Kitchen
Doubling up as a kitchen centerpiece and a highly functional unit, island hoods and wall-mounted chimney hoods are ideal for spacious kitchens that view the hood as a clear design element.
A practical and beautiful kitchen island is popular among modern kitchen designs, and requires the installation of an island hood. Island hood is suspended from the ceiling above a cooking island in the centre of the room, and provide flexible ceiling mounting for your island kitchen. It is equipped with superior suction power for open concept kitchens.
For other open concept kitchen, choose Wall Mounted Chimney hoods that are perfect for families who cook frequently at home. Providing unlimited headroom thanks to their ergonomic shape.
2.2 Telescopic & Semi-Integrated Hoods
For Seamless Integration
These elegant hoods are a great choice if you're looking to build a minimalist and stylish kitchen. Created to fit perfectly with your kitchen's design, the hood body will be completely concealed behind your kitchen cabinets with only the front panel visible. Choose between telescopic hoods and semi integrated hoods for a discreet and sophisticated finish.
Telescopic hoods operate by extending over the cooking area during operation, and the retracting when not in use to be completely integrated with your kitchen cabinets.
Semi-integrated hoods come with easy to reach controls while fitted under your kitchen cabinets for a minimalistic look.
2.3 Slim Hoods
For Compact Kitchen Centrepiece
Slim hoods are installed below your kitchen cabinet to add a focus in your kitchen. The compact yet powerful hood makes it ideal for space constraint kitchens.
3. Air Flow Rate
The effectiveness of a hood in removing fumes and cooking smells from your kitchen is dependent on its suction power. As a general guide, larger kitchens require higher suction power. It is recommended that your cooker hood should be able to replace the air in the kitchen by approximately 10 times per hour. Use the formula below to calculate the recommended airflow rate:
Recommended Airflow Rate (m3/hr) = Kitchen Area (m3) [i.e. Width x Depth x Height] x 10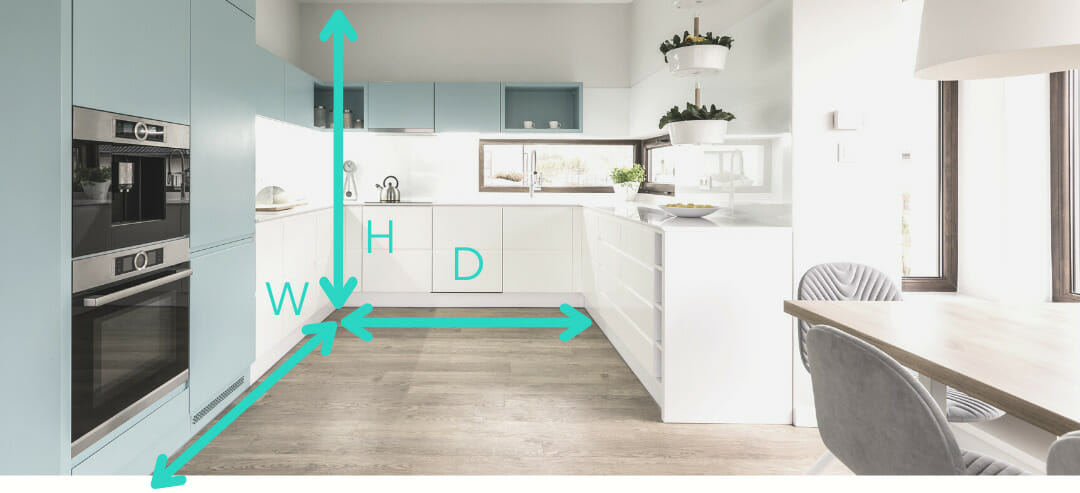 Using this formula, a kitchen area of 50m3 is recommended to install cooker hood with suction power of 500m3/hr.
4. Novel Cooker Hood Features
Do you experience greasy fingers during cooking? Dread spreading the grease all over your cooker hood panel when adjusting settings? We have the solution! Choose EF latest hoods that come with state-of-the-art gesture control in addition to sensor touch control. Simple gesture left/right to turn off/on the hood, and decrease/increase fan speed settings. #handsfree
Also equipped with Air Ioniser to sanitize the air by deactivating germs, allergens and viruses in the air. Enjoy cleaner air at home!
Locate nearest retailers to browse EF cooker hoods in person.